So it's the home stretch of the Beargrease! Out of the original field of 27 (28 counting honorary bib #1 which is always reserved for John Beargrease himself :) remain 12 teams. A number of the teams dropped out at the roughly halfway point for various reasons - chatting with a couple Beargrease volunteers indicated both a mix of "wasn't planning to finish", dogs dehydrated/over-run given the too-hot weather yesterday (yes - a context where 35 degrees is too warm!), and mushers just getting run-down and disheartened by running 6+ hours last night in the cold rain.
Now for a turnabout - tonight's weather is about -15 on the trail with 20mph winds - completely ridiculous. All the remaining mushers are out of the Finland checkpoint and enroute to Two Harbors, with the lead mushers slated to get into Two Harbors anytime now. They then have a final 6 hour required rest to take there before hitting the final 40 miles into the finish in Duluth. It's a tight race, with only 10-15 mins separating the lead 3 mushers, and 9/10/11th places similarly situated and close.
Lisa and I headed back to the Sawbill checkpoint today to see teams in various states - just coming in from Devil Track, resting, and just heading out for Finland.
This is Rita Wehseler's team resting at Sawbill.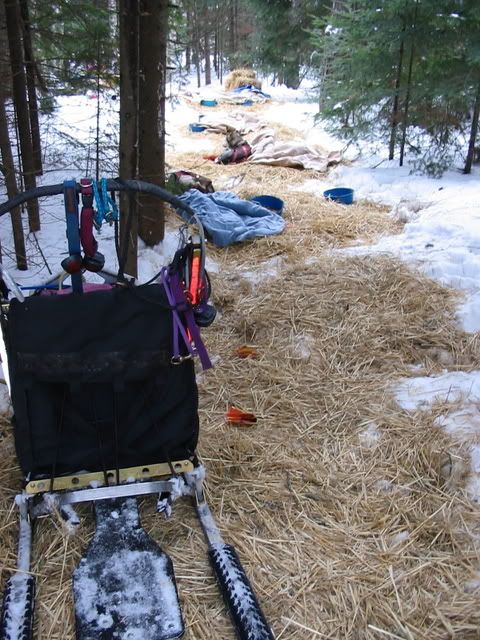 Rita herself at that moment was off sleeping in a trailer while one of her handlers watched over the team's rest. Each team is provided bales of straw to bed the dogs down with at the checkpoints, while the musher/crew provides blankets, coats, in some cases leg wraps with the dog equiv of Icy Hot and food for the dogs before they bed down to sleep hard before the next leg. As you can see - these are some contented and happily-run dogs. At such checkpoints - the dogs stay on the gangline and are fastened down while they eat/sleep. The handlers/mushers then one by one take each one off separately to pee/poop just before heading out again.
Here's one of the teams undergoing a vet check by one of the Beargrease volunteer veterinarians.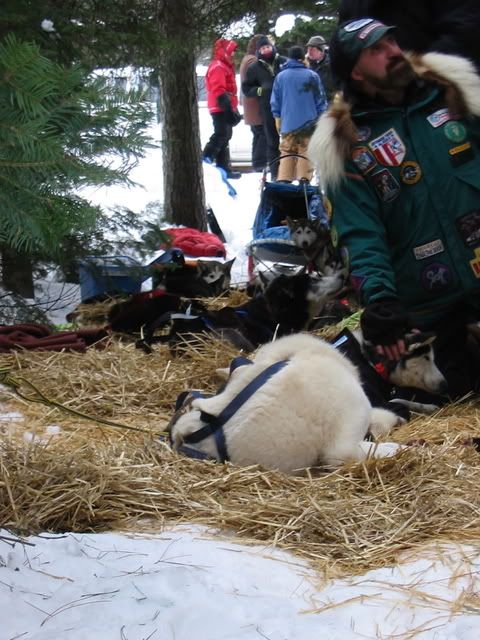 Both the Beargrease races folks and the mushers are fastidious about making sure the dogs are in top shape in order to be able to continue the race - I watched for 10-15 mins as this vet worked one of the dogs' shoulders through all ranges of motion and extension, evaluating to make sure no injuries or touchy spots. In the event that there's any question about a dog's ability to continue, they're dropped from the roster. On the trail if a musher has to drop a dog(s) from the team, they tuck them into their sled bag to drop with the team handlers at the next checkpoint.
Another team resting at Sawbill - seriously, a rabbit could walk up and belly dance for these dogs and they'd be like "meh - sleep now." And yes - those piles of blanket you see, bundled of dogs beneath. Each team for the marathon starts with 12 dogs, and by this return trip to the Sawbill checkpoint, teams had from 9-11 dogs remaining: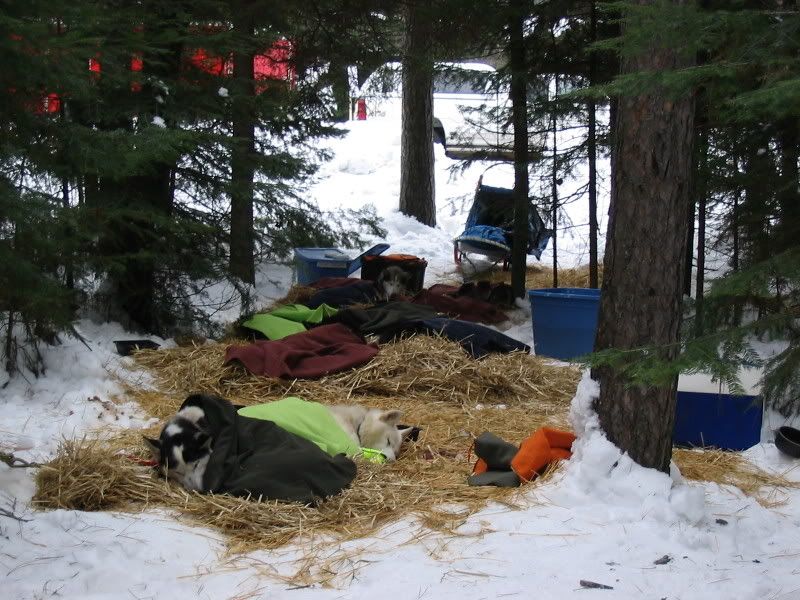 Next shot is Blake Freking's team just heading out from Sawbill. His wife Jennifer also started the race with her own team (apparently they both raced separately before meeting up a few years ago) but had to bail the race shortly after the start due to an unfortunate sled-tip that resulted in her hand being broken! She's registered for the Iditarod too, and supposedly will be having the pin removed from her hand just prior to racing the Iditarod. Anyway - yeah here's Blake and his team, with handlers moving the team/sled from the rest area to the trail start: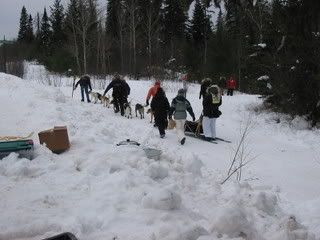 Next is a shot of Ward Wallin's team having just gotten into Sawbill at 12:34pm after a 4 hour run from Devil's Track checkpoint. Ward stopped long enough to check in with the officials, change out his sled rails, check the dogs and feed them some frozen meat snax, then headed off within 10 mins for the Finland checkpoint another 33 miles/4 hours away. Tough stuff these mushers and dogs are made out of!
Here's a shot from Sunday night, the first day of the race, at the Hwy 2 checkpoint.
And here's Lisa at the Hwy 2 checkpoint - such a trooper for mucking about up here in the cold with me, but she's gotten the Beargrease fever completely independently of me has been checking/searching for updates even more obsessively than me. :)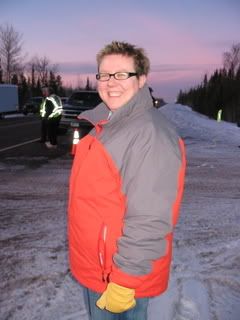 So now we wait up tonight and watch the updates to see when the top 3 make it into Two Harbors. Isn't likely we will pack up and head out tomorrow from Grand Marais in time to catch the top finishers, but planning to head in time to catch the middle-to-last finishers.
Though given the redunkulous weather, we're just hoping we'll be taking off in the morning at all!